203
For extraction of viral DNA/RNA from serum, plasma and cell-free body fluids
Applicable models : HF16, Compact, HF48, Super, HF16 Plus, Plus II
For 200 and 400 µl sample volumes 
Contents:  Pre-filled Cartridges, Proteinase K, PK Storage Buffer, Carrier RNA, RNase Free Water, Disposable Tip & Holder Sets, Sample Tubes, Elution Tubes.
Features
Higher analytical sensitivity.

Consistent and reproducible results.

High performance of purified DNA/RNA in downstream applications such as qPCR.

Cartridges are pre-filled and sealed to prevent contamination.

Provides  the option of Internal Control selection.
Applications
MagCore® Viral Nucleic Acid Extraction Kit allows automated processing of multiple sample types in the same run, including:
 Cell-Free Body Fluids

 Plasma and Serum

 CSF

 Urine

 Swabs
Viral Nucleic Acid Extraction Performance Analysis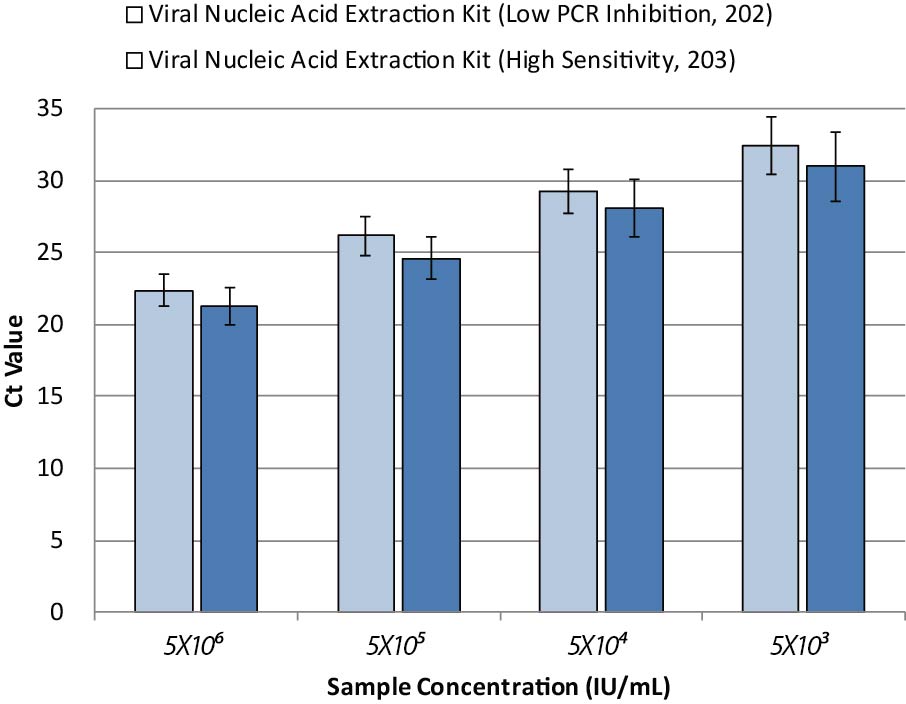 Internal Control (IC) Selection

貨號 : MVN400-05
儲存條件 : 儲存於室溫
包裝規格 : 36 tests / 組
預填充試劑匣 ( 36 個/盒 x 1 盒)
吸管尖/吸管套組 ( 36 個/包 x 1 包)
樣品管 ( 36 個/包 x 1 包)
收集管 ( 36 個/包 x 1 包)
Carrier RNA ( 1 毫克/支 x 1 支)
RNase Free Water ( 1.25 毫升/管 x 1 管)
蛋白酶K ( 11 毫克/管 x 1 管)
蛋白酶K緩衝液 ( 1.25 毫升/管 x 1 管)

貨號 : MVN400-06
儲存條件 : 儲存於室溫
包裝規格 : 96 tests / 組

預填充試劑匣 ( 48 個/盒 x 2 盒)
吸管尖/吸管套組 ( 100 支/盒 x 1 盒)
收集管 ( 100 個/包 x 1 包)
樣品管 ( 100 個/包 x 1 包)
Carrier RNA ( 1 毫克/支 x 1 支)
RNase Free Water ( 1.25 毫升/管 x 1 管)
蛋白酶K ( 11 毫克/管 x 2 管)
蛋白酶K緩衝液 ( 1.25 毫升/管 x 2 管)