Purify genomic DNA from human whole blood for genotyping.
Applicable models : HF16, Compact, HF48, Super, HF16 Plus, Plus II
Applications
Use magnetic-particle technology to purify genomic DNA from whole blood and buffy coat. The purified genomic DNA can be directly used for downstream application such as genotyping, PCR, real-time PCR, restriction enzyme digestion, southern blotting…etc.
Storage And Stability : Store at Room Temperature
Packing : 36 tests / Kit

Pre-Filled Cartridge Reagen ( 36 pcs/set x 1 set)
Pipette Tip and Holder Set ( 36 pcs/packs x 1 packs)
Sample Tube ( 36 pcs/packs x 1 packs)
Elution (Eppendorf) Tube ( 36 pcs/packs x 1 packs)
PK Storage Buffer ( 1.25 ml/tube x 2 tube)
Proteinase K ( 11 mg/tube x 2 tube)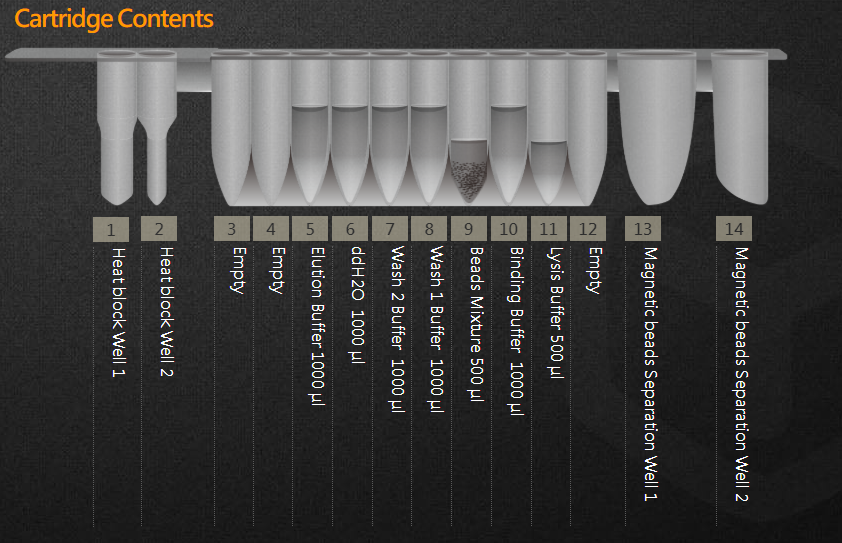 Storage And Stability : Store at Room Temperature
Packing : 96 tests / Kit
Pre-Filled Cartridge Reagen ( 48 pcs/Box x 2 Box)
Pipette Tip and Holder Set ( 100 pcs/Box x 1 Box)
Sample Tube ( 100 pcs/packs x 1 packs)
Elution (Eppendorf) Tube ( 100 pcs/packs x 1 packs)
PK Storage Buffer ( 1.25 ml/tube x 4 tube)
Proteinase K ( 11 mg/tube x 4 tube)