For extraction of genomic DNA from cultured cells and amniotic fluid.
Applicable models : HF16, Compact, HF48, Super, HF16 Plus, Plus II
For 200 µl sample volumes  (up to 5 x106 cells). 
Contents : pre-filled cartridges, proteinase K, PK storage buffer, disposable tip & holder sets, sample tubes, elution tubes

Shelf life : 18 months
Features
High performance of purified DNA in downstream applications such as qPCR.

Reliable isolation of DNA up to 5 x106 cells

Pre-filled and sealed buffer cartridges prevent contamination.

No phenol or chloroform extraction.

Efficient removal of contaminants and inhibitors.​
Applications
The high quality DNA obtained is suited for many applications, such as:
PCR and real-time PCR

Next Generation Sequencing (NGS)
DNA quality analysis by Spectrophotometer
DNA of three different cultured cells were extracted by the employment of MagCore® HF16 and MagCore® Cultured Cells DNA Kit (200μl sample volume).
The following data show the yield and purity of DNA of three samples. 
1
2
3
Sample
COS 7 (1.2×107)
Junkat (1×106)
HEK293 (1×106)
Yield (mg)
16.44
13.08
24.42
DNA purity  (A260/280)
1.93
1.87
1.92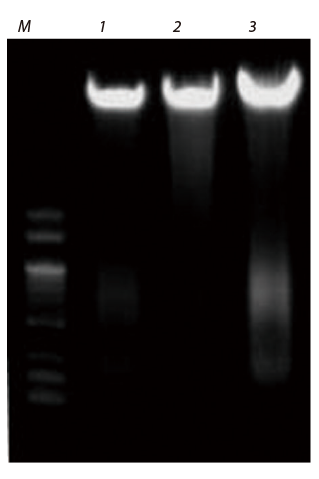 Amniotic fluid DNA extration
Result
DNA quality is checked by the NanoDrop spectrophotometer and agarose gel electrophoresis after DNA purification from amniotic-fluid cells. Cells were harvested from 10~15 ml amniotic fluid samples at pregnancy weeks 16-18 by centrifugation for 10 minutes at 3000 rpm.
Sample ID
Conc. (pg/μl)
A260/ 280
A260/ 230
Yield (μg)
1
GPT2967P
22.68
1.84
1.07
1.36
2
GPT2952P
33.98
1.92
1.57
2.04
3
NP679P
33.65
1.80
1.34
2.02
4
NP777P
39.22
1.86
1.20
2.35
5
MP795P
22.05
1.79
0.97
1.32
by NanoDrop ND-1000
DNA quality analysis by NanoDrop.
Sample ID (1) to (5) are different amniotic fluid samples. It is shown that MagCore® HF16 system can purify 1~2 μg DNA from10~15 ml amniotic fluid samples and DNA purity is with the A260/280 ratio of around 1.8±0.1
Genomic DNA isolations were run by gel  electrophoresis on  1% agarose gel.
| | |
| --- | --- |
| Lane M | RBC 1kb ladder marker |
| Lane 1 | GPT2967P |
| Lane 2 | GPT2952P |
| Lane 3 | NP679P |
| Lane 4 | NP777P |
| Lane 5 | NP795P |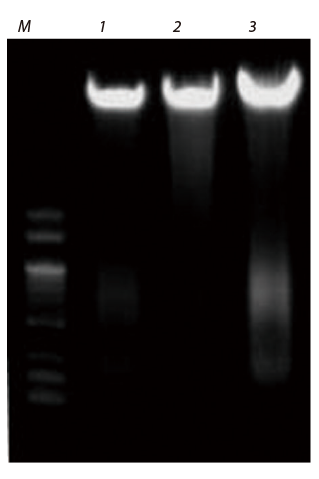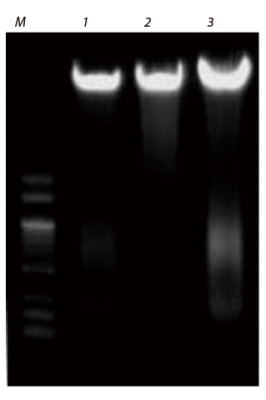 Cat.No. : MCC-01
Storage And Stability : Store at Room Temperature
Packing : 36 tests / Kit
Pre-Filled Cartridge Reagent ( 36 pcs/set x 1 set)

Pipette Tip and Holder Set ( 36 pcs/packs x 1 packs)
Sample Tube ( 36 pcs/packs x 1 packs)
Elution (Eppendorf) Tube ( 36 pcs/packs x 1 packs)
PK Storage Buffer ( 1.25 ml/tube x 1 tube)
Proteinase K ( 11 mg/tube x 1 tube)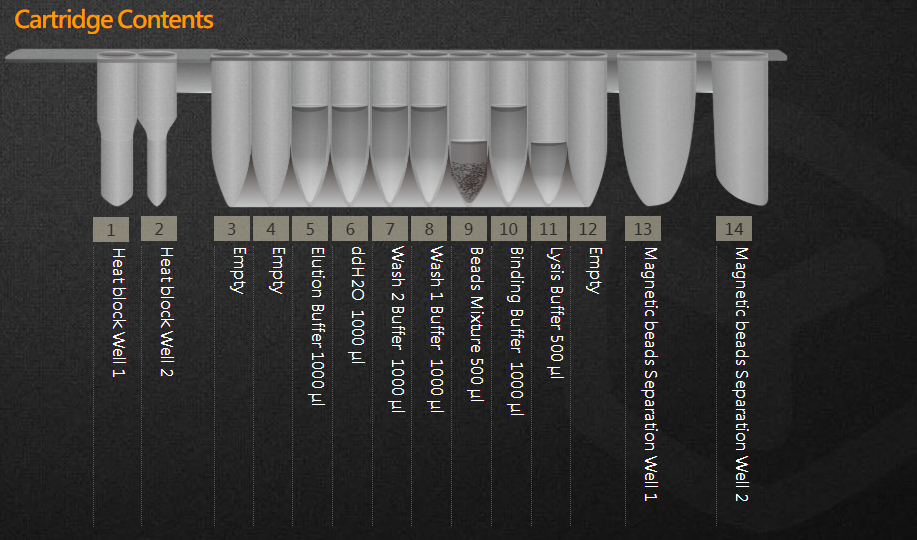 Cat.No. : MCC-02
Storage And Stability : Store at Room Temperature

Packing : 96 tests / Kit
Pre-Filled Cartridge Reagent ( 48 pcs/set x 2 set)
Pipette Tip and Holder Set ( 100 pcs/Box x 1 Box)
Sample Tube ( 100 pcs/packs x 1 packs)
Elution (Eppendorf) Tube ( 100 pcs/packs x 1 packs)
PK Storage Buffer ( 1.25 ml/tube x 2 tube)
Proteinase K ( 11 mg/tube x 2 tube)