For extraction of genomic DNA from plant and fungal tissues.
Applicable models : HF16, Compact, HF48, Super, HF16 Plus, Plus II
For 50-100 mg fresh tissues or 5-20mg dried plant tissues
Contents : pre-filled cartridges, RNase A, GP1 buffer, GP2 buffer, filter column sets, disposable tip & holder sets, sample tubes, elution tubes 

Shelf life : 18 months
Features
Lysis buffer treats the large amount of polysaccharide samples for an optimal performance.

Pre-filled and sealed buffer cartridges prevent contamination.

No phenol or chloroform extraction and alchol precipitation.

Efficient removal of contaminants and inhibitors.
Applications
The MagCore® Genomic DNA Plant Kit provides purification of DNA from plant tissue, including:
 Plant cells

Plant tissues​
​The high quality DNA obtained by using the MagCore® Genomic DNA Plant Kit is suited for many
applications, such as:
PCR 

Real-time PCR

Genotyping
Yields of nucleic acid purified from various sources by MagCore® Genomic DNA Plant Kit
| Sample ID | Position | Yield (ng/μl) |
| --- | --- | --- |
| Citrus nobilisLour. | Leaf | 36.5 |
| Carica papaya | Leaf | 49.2 |
| Lycopersicon esculentum | Leaf | 71.9 |
| Ctrullus lanatus | Leaf | 23.4 |
| Anisogonium esculentum | Leaf | 240.3 |
| Trachycarpus fortunei | Leaf | 154.7 |
| Mentha piperita | Leaf | 54.6 |
| Anthoceros punctatus | Leaf | 38.9 |
| Calix babylonica | Leaf | 80.7 |
| Prnus campanulata | Leaf | 35.7 |
| Lxeris chinensis | Leaf | 161.4 |
| Capsicum annuum | Leaf | 13.9 |
| Vigna radiata | Seed | 7.0 |
| Medicago sativa | Leaf | 21.0 |
| Vigna angularis | Seed | 5.8 |
| Agaricus bisporus | Whole | 14.3 |
Cat.No. : MCC-01
Storage And Stability : Store at Room Temperature
Packing : 36 tests / Kit
Pre-Filled Cartridge Reagent ( 36 pcs/Box x 1 Box)
Pipette Tip and Holder Set ( 36 pcs/packs x 1 packs)
Sample Tube ( 36 pcs/packs x 1 packs)

Elution (Eppendorf) Tube ( 36 pcs/packs x 1 packs)
Filter Column Set ( 36 pcs/packs x 1 packs)
GP1 Buffer ( 25 ml/Bottle x 1 Bottle)
GPX1 Buffer ( 25 ml/Bottle x 1 Bottle)
GP2 Buffer ( 6 ml/Bottle x 1 Bottle)
RNase A ( 275 µL/tube x 1 tube)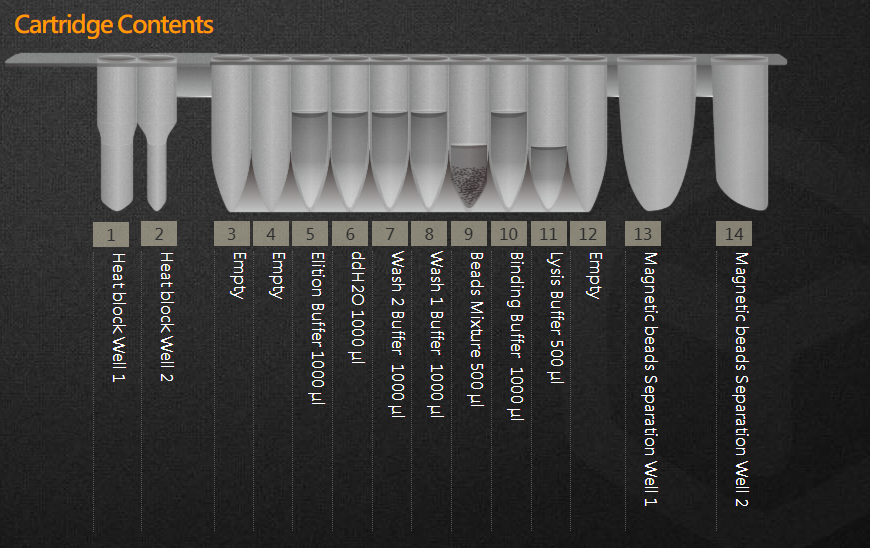 Cat.No. : MCC-02
Storage And Stability : Store at Room Temperature

Packing : 96 tests / Kit
Pre-Filled Cartridge Reagent ( 48 pcs/Box x 2 Box)
Pipette Tip and Holder Set ( 100 pcs/Box x 1 Box)
Sample Tube ( 100 pcs/packs x 1 packs)
Elution (Eppendorf) Tube ( 100 pcs/packs x 1 packs)
Filter Column Set ( 100 pcs/packs x 1 packs)
GP1 Buffer ( 50 ml/Bottle x 1 Bottle)
GP2 Buffer ( 15 ml/Bottle x 1 Bottle)
RNase A ( 550 µL/tube x 1 tube)