DESCRIPTION:
Easy Pure Genomic DNA Spin Kit provide fast and easy methods for purification of total DNA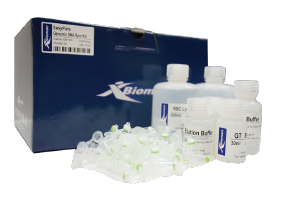 for reliable PCR and Southern blotting. genomic, DNA can be purified from whole blood, plasma,
serum, buffy coat, other body fluids, lymphocytes, cultured cells, tissue, bacterial cell and
forensic specimens.The simple spin procedures, which are ideal for simultaneous processing of
multiple samples, The spin procedure is suitable for use with fresh or frozen whole blood and
blood which has been treated with citrate, heparin, or EDTA. Prior separation of leukocytes is
not necessary. Purification requires no phenol/chloroform extraction or alcohol precipitation, and
involves very little handling. DNA is eluted in Tris Buffer or water, ready for direct addition to PCR
or other enzymatic reactions. Alternatively, it can be safely stored at -20oC for later use. The
purified DNA is free of protein, nucleases, and other contaminants or inhibitors.DNA purified
using Easy Pure Genomic DNA Spin Kit ranges in size approximately 20-30 kb predominating.
DNA of this length denatures completely during thermal cycling and can be amplified with the
highest efficiency.
Kit Information:
| | |
| --- | --- |
|   sample | Up to 20 mg of animal tissue |
| | or 0.5 cm of mouse tail |
| | 300ul  whole blood (Up to 1mll) |
|   Yield : | 50ug for Tissue Kit |
| | 6ug/200ul frash blood for blood Kit |
|   Format: | Spin column |
|   Operation time: | 40min. |
|   Elution volume: | 100ul/twise. |