DESCRIPTION:
MMLV Reverse Transcriptase, from Murine Leukemia virus , is an RNA-dependent DNA
polymerase.It synthesizes the cDNA first strand from a single-stranded RNA template to
which a primer has been hybridized.MMLV RT also can extend primers hybridized to
single-stranded DNA. Second strand cDNA synthesis can be achieved from some RNA
templates without an additional DNA polymerase. M-MLV RT (H-) can synthesize
9.5kb products, the largest RNA component in the reaction. However, M-MLV RT
synthesized more Full-length cDNA regardless of size.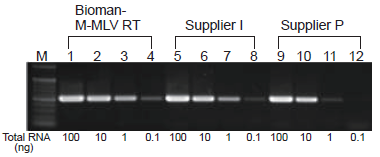 Unit description:
One unit of activity is the
amount of enzyme required to incorporate
1 nmole of dNTP into an acid-insoluble form
in 10 minutes at 37°C using polyA-oligo (dT)
as template and primer.
Storage buffer:
50 mM TrisHCl, pH 8.3
100 mM NaCl
1 mM EDTA
0.1 mM DTT
0.1% Triton X-100
50% glycerol