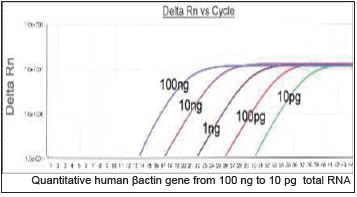 DESCRIPTION:
2x qRT-PCR mix is designed for quantitative
real time directly analysis of RNA samples.
• Strong signals and high sensitivity due to
fluorescent dye.
• High specificity – no primer dimers, no NTC
signal.
• Optimized 2x qRT-PCR Master mixes for
different real-time PCR instruments.
• Master mix formulation are optimized for
different machines.
2x qRT-PCR Master mix is ideally suited for:
• Gene expression analysis
• Microarray validation
• High specificity in one-step RT-PCR