DESTAINING NOT REQUIRED
An ultra sensitive and ready-to-use protein stain based on Coomassie dye. No mixing or
preparation is involved. No fixation step is needed. Simply pour RAPIDstain on your gel,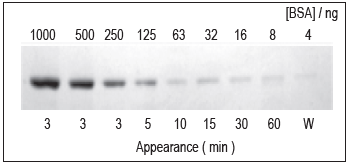 and bands develop within 5-10 minutes and reaches a maximum visibility in 60 minutes.
You can monitor the bands developing directly in the staining tray. Mini-gels can be
stained in 10 minutes.
RAPIDstain only stains protein, leaving a crystal-clear background resulting in high band
visibility. The gels require no de-staining. The protein band intensity is enhanced by simply
rinsing with water.