For Multiple Probing of Western Blots
DESCRIPTION:
If you can not afford to re-run your Western Blots, reuse your Western Blots
with Stripping buffer. Bioman Stripping Buffer is specifically formulated to
dissociate and remove antibodies from the membrane bound protein without
destroying the antigenicbinding affinity. Removal of antibodies also removes
corresponding chemiluminescent or radioisotopic signals from the blots.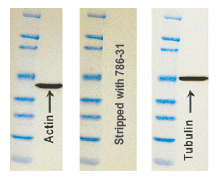 The stripped blots can then be probed with new probes. Simple to follow
protocol. Incubate the blot in Stripping buffer for 10-20 minutes at room
temperature, wash with TBSTbuffer, and the blot is ready for re-probing.
Stripping Buffer is not recommended for stripping color producing
WesternBlots that use substrates such as TMB, chloronapthol,DAB, etc.