Discription: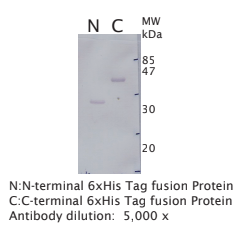 The 6x histidine recombinant protein tag is made up of 6 histidine residues
attached to either the amino or carboxy terminus of the protein being
expressed. The recombinant protein can then be purified using immobilized
metal ions, traditionally nickel, in a procedure termed immobilized-metal
affinity chromatography. Further analysis of the protein can be achieved
using an antibody specific to the 6x histidine in techniques such as western
blotting and immunoprecipitation.